Best Price and Professional Delivery
$2.79 per Gallon
for 150 gallons or more
215-492-1900
Oil Patch Fuel is the leading heating oil provider and comfort service for Philadelphia and Delaware County. Our 20 plus years of experience results in safe, efficient, and timely heating oil deliveries.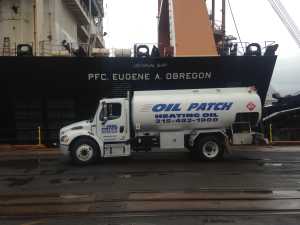 Lowest Prices
No contracts Required
Free Tank Inspections
24-Hour Customer Service
Decades of Experience
Best Priced Heating Oil and Professional Delivery
All of our heating oil and diesel fuel is the highest quality with the lowest amount of sulfur content. Not only do we have the highest quality heating oil but we offer it at the lowest price in Philadelphia and Delaware County.
The reason we are able to offer the best quality heating oil for the lowest price is that we load directly from the refineries. There are no middle-men involved. Our drivers load their trucks with heating oil at the refinery and bring that same truck directly to your home.
Over 30 Years in Business
Choosing a heating oil company means picking one that is reliable and trusted. Oil Patch Corp has been delivering heating oil in Philadelphia for over 30 years and is a trusted name in the area for heating oil service. See why we are the premiere heating oil service in Philadelphia and Delaware County.
Save Yourself Money!